PATA Micronesia Kick Starts their 3rd Tri Annual Meeting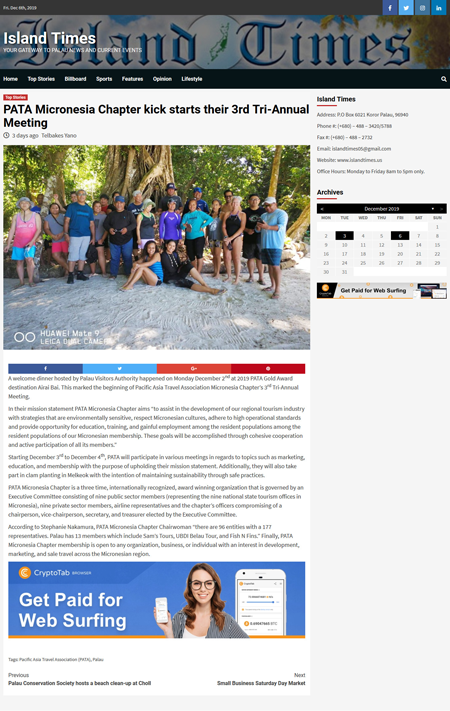 ---
PATA's Face of the Future - Flori-Anne Dela Cruz Discusses the Next Generation of Potential Leaders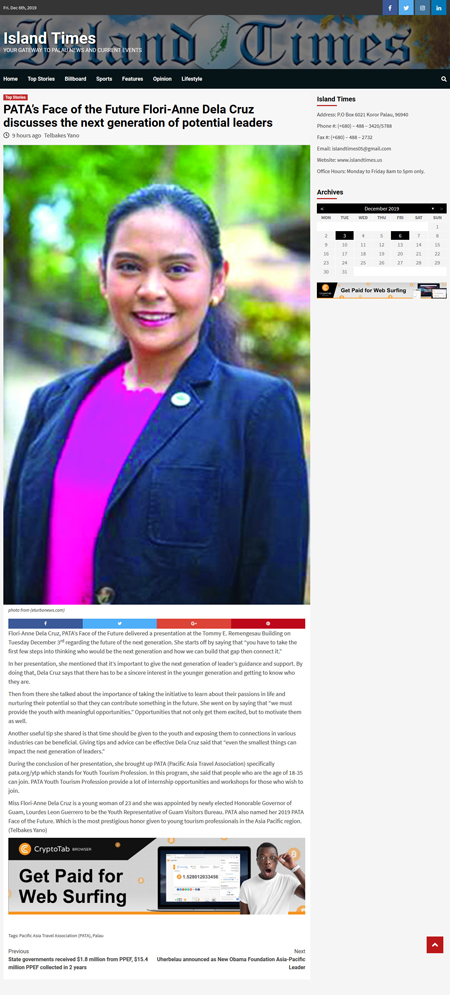 ---

SAVE THE DATE
3RD TRI-ANNUAL PATA MICRONESIA MEETING
PALAU
DECEMBER 3-4, 2019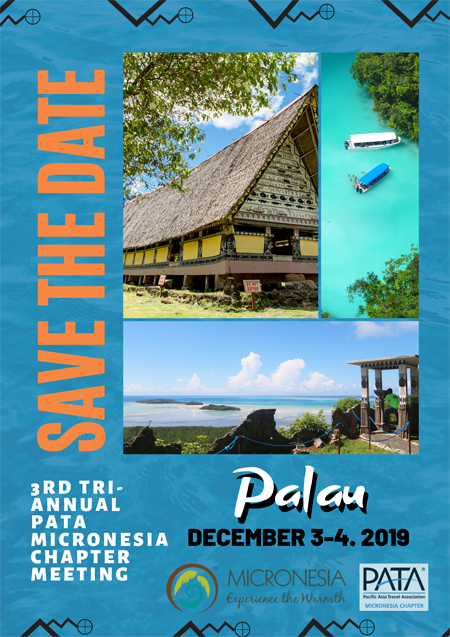 ---
Saipan Marathon on March 14, 2020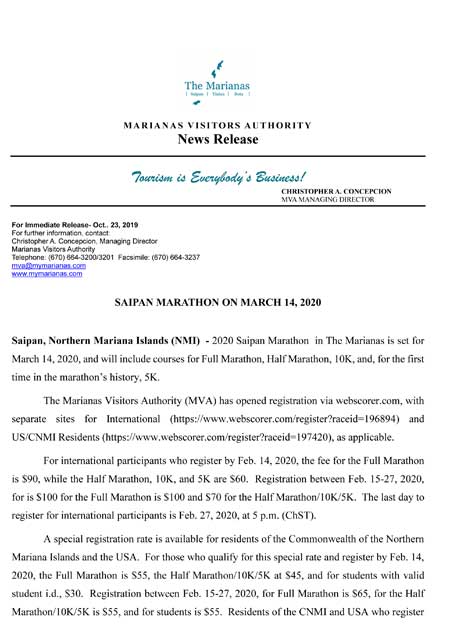 ---
Yap Visitors Bureau Quarterly Newsletter - October 2019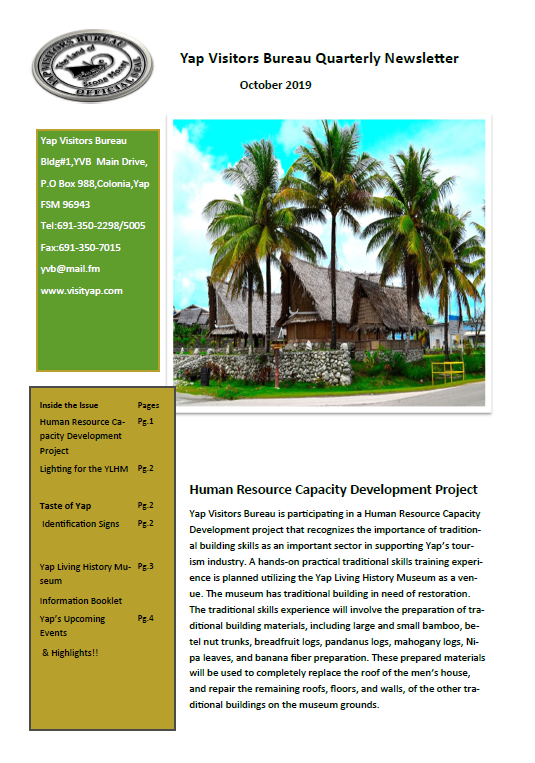 ---


PATA GOLD AWARDS 2019
As of today, and year to date, we've had more than five hundred visitors visiting the Bai.
Not only tourists but high officials and the local people who have also taken the tour and lunch. Thank you everyone….
The Palau Visitors Authority received the PATA GOLD AWARDS 2019 for its entry of Airai State Cultural Tour in the Community based tourism category on September 19, 2019 @ the PARADE Travel Mart in Kazakhstan.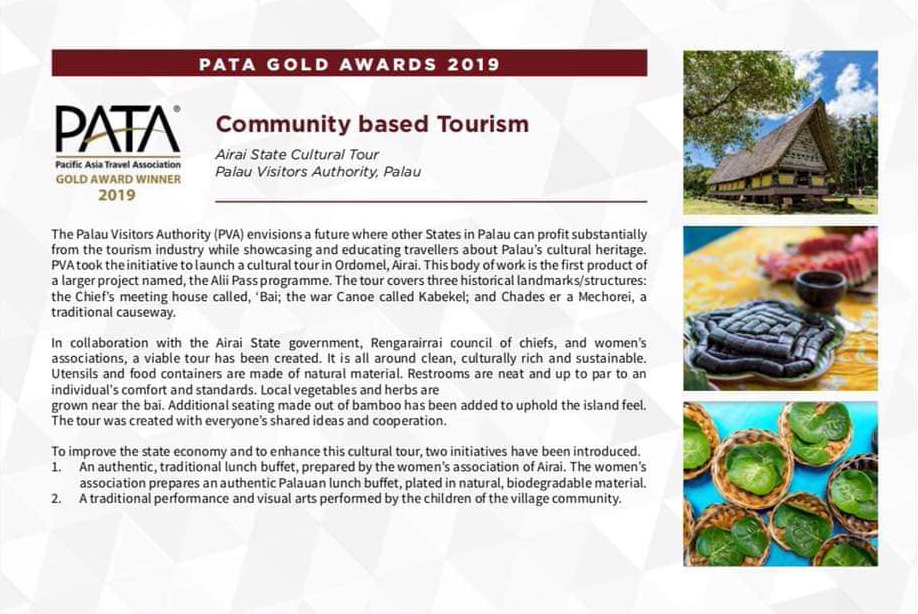 On stage to receive the award is PVA Board of Directors Chairman, Mr. Ngiraibelas Tmetuchl.
This award is a result of the cooperation and partnership between PVA, Airai State Government, Rengarairrai council of chiefs and the women's associations.
---

2nd Tri-Annual Member Chapter Meeting - August 6-8, 2019 - Kosrae, Micronesia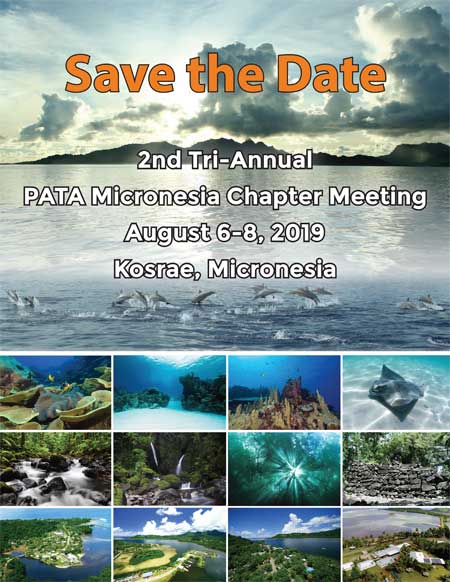 ---

2nd Tri-Annual Member Chapter Meeting - August 6-8, 2019 - Kosrae, Micronesia - Schedule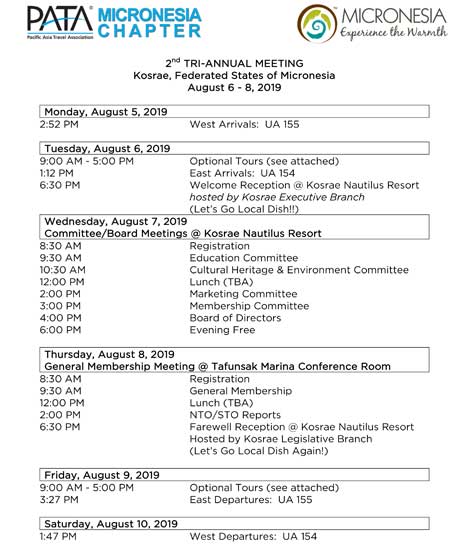 ---
Miss Marshall Islands Pageant - July 8-13, 2019
The Miss Marshall Islands Pageant was initiated primarily by the Office of Commerce, Investment, and Tourism with its core goal to put Marshall Islands destination on the map. The event is a way or a mechanism to expose the Marshall Islands and its people throughout the Pacific Region and other parts of the world through social media, press releases, etc. This event is also an opportunity to bring out the best in twenty-four of our own young women who represent our beautiful twenty-four atolls that are marketable for tourism activities. The Major sponsors such as Nauru Airlines, Marshall Islands Marine Resources Authority, along with the Government of the Marshall Islands and many others sponsors are excited about this first time Pageant and can't wait for it to get started.
---

PATA Micronesia Tri-annual Chapter Meeting - April 2- 4, 2019, in the Marshall Islands.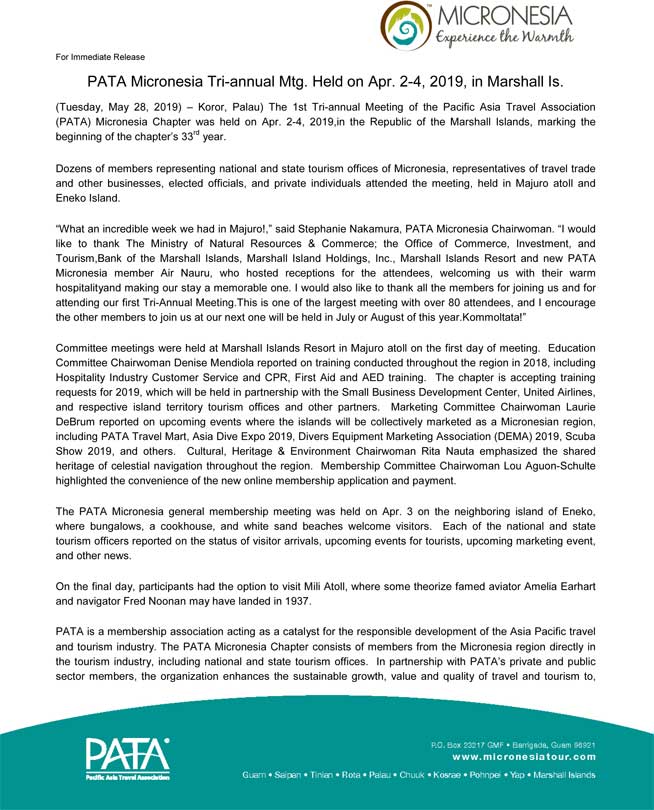 ---

High praise for Marshall Islands Resort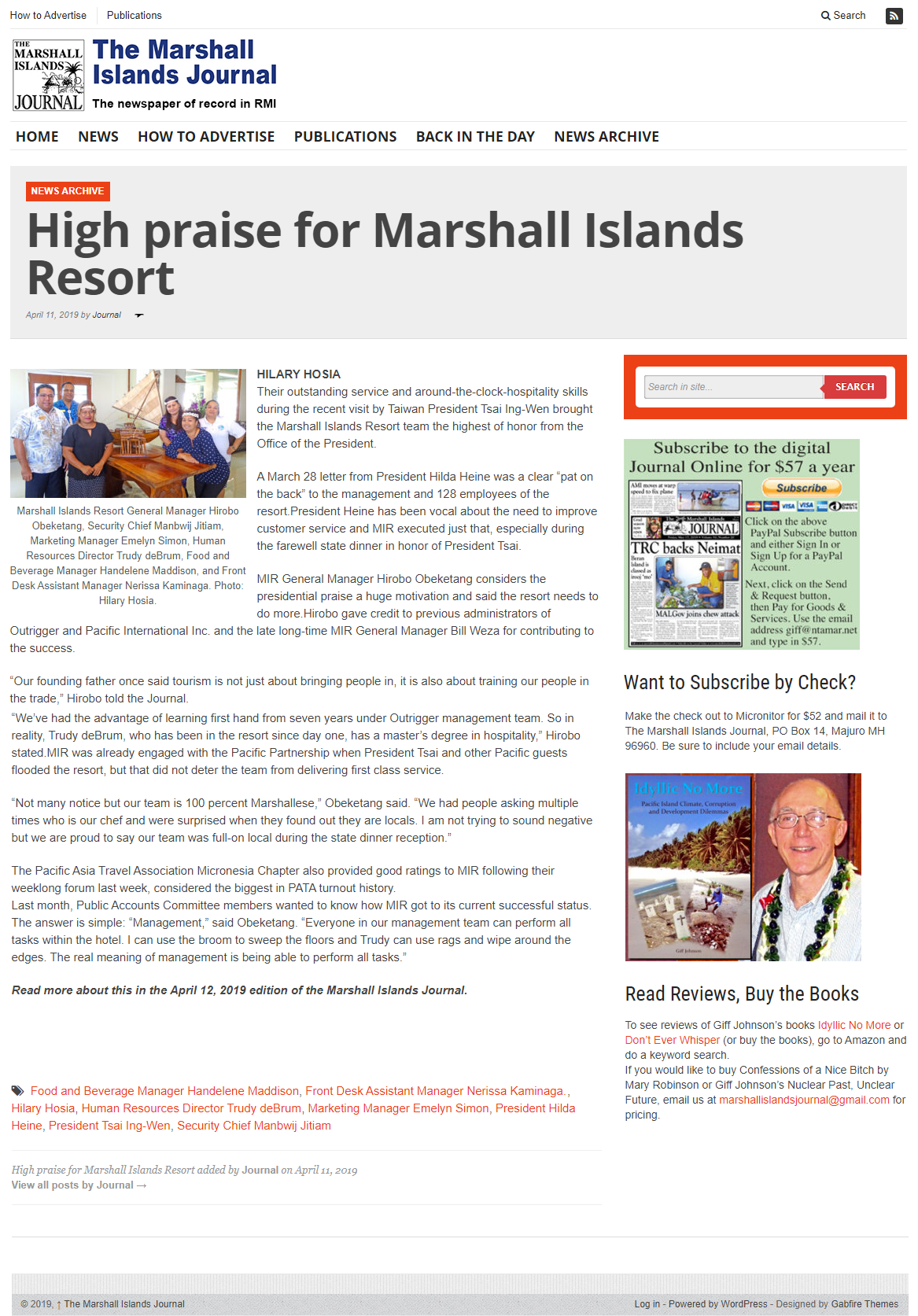 ---
PRESS RELEASE MAY 12 ANGAUR ASSESSMENT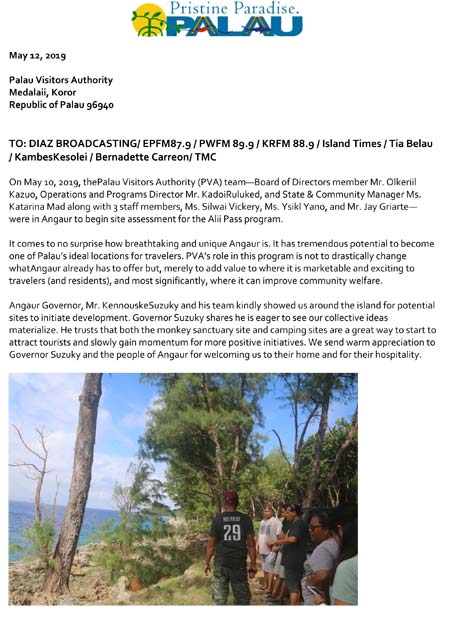 ---
PRESS RELEASE MAY 12 MOH DONATION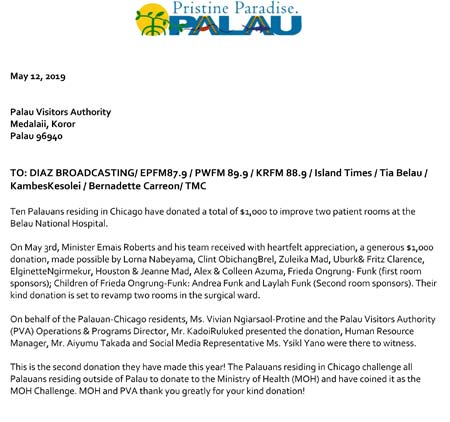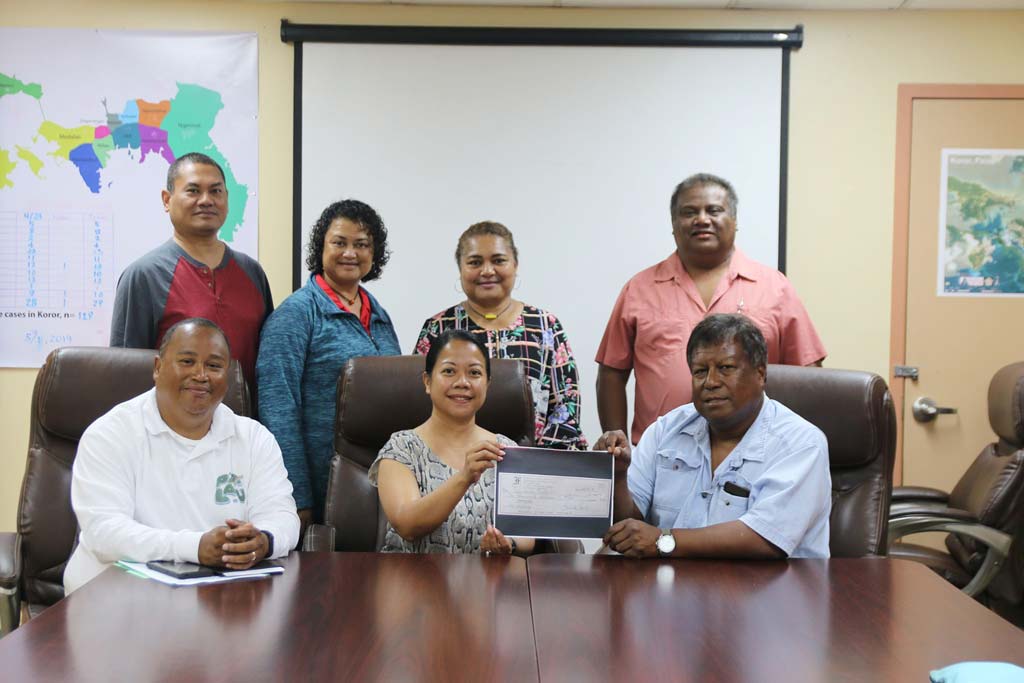 ---

Yap Newest Addition to WWII Tours of Micronesia
---
PVA and Ngchesar State signing of the Alii Pass program MOU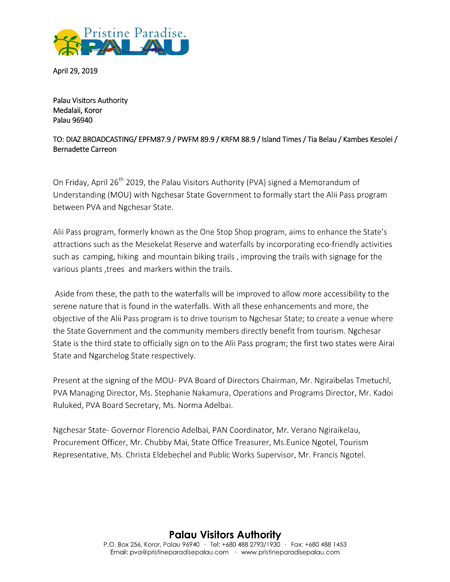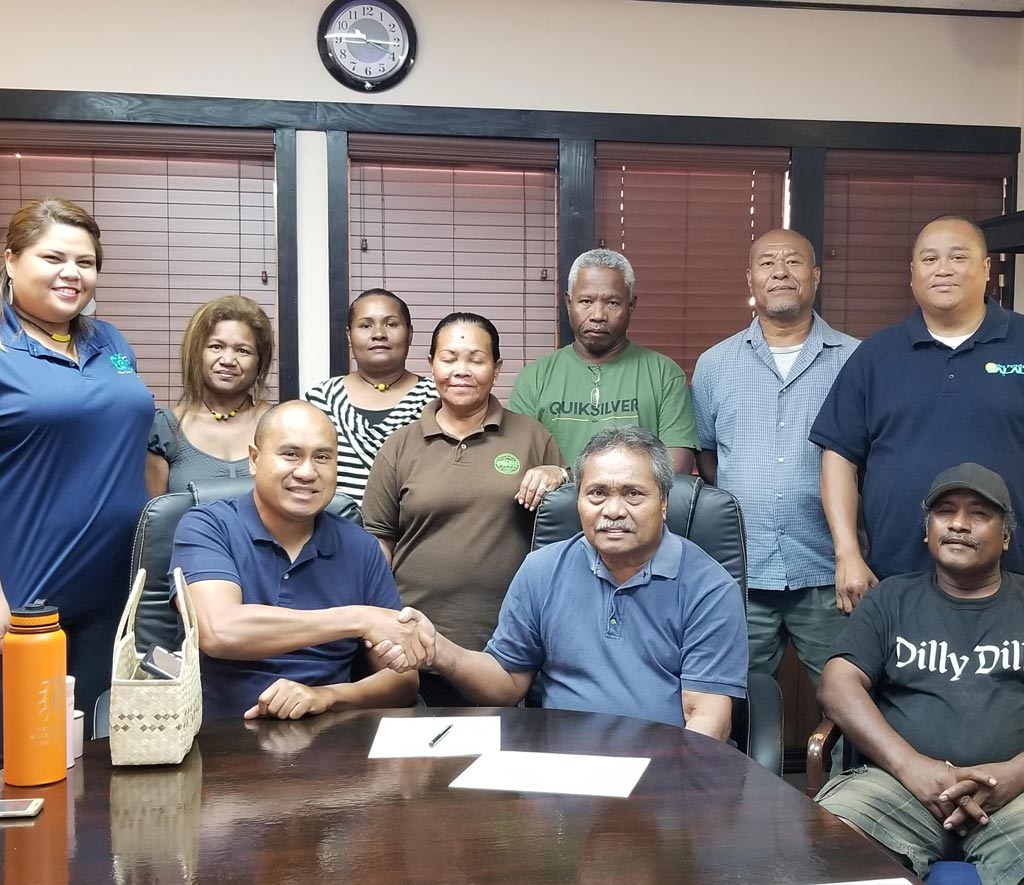 ---

PRESS RELEASE APR 18 ALII PASS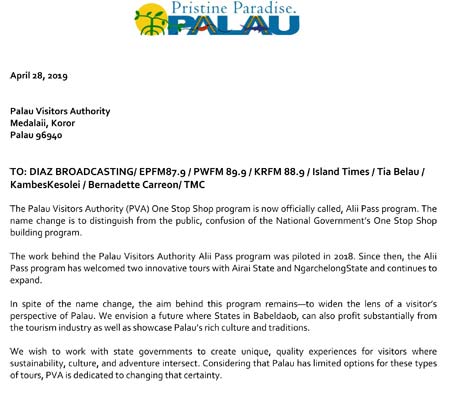 ---
Ace Hardware and IP&E donate to Green Fair 2019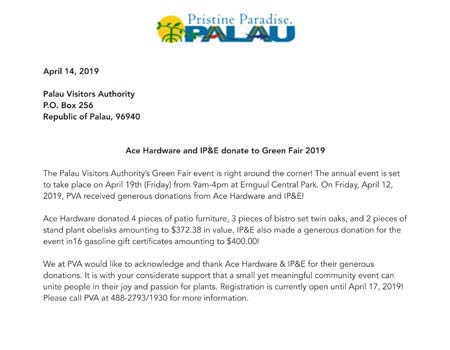 ---
PRESS RELEASE APR 10 JAPAN MDF AWARDING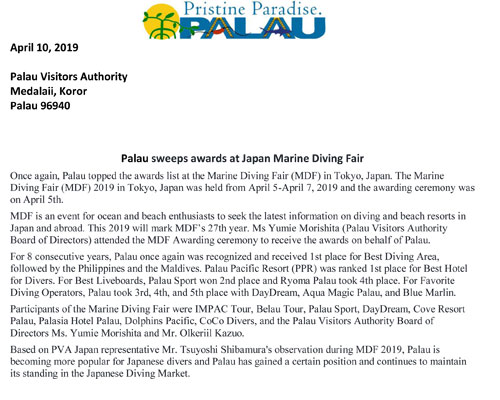 ---
Yap Visitors Bureau Quarterly Newsletter - April 2019
---
PRESS RELEASE MAR 4 TOUR  + LUNCHEON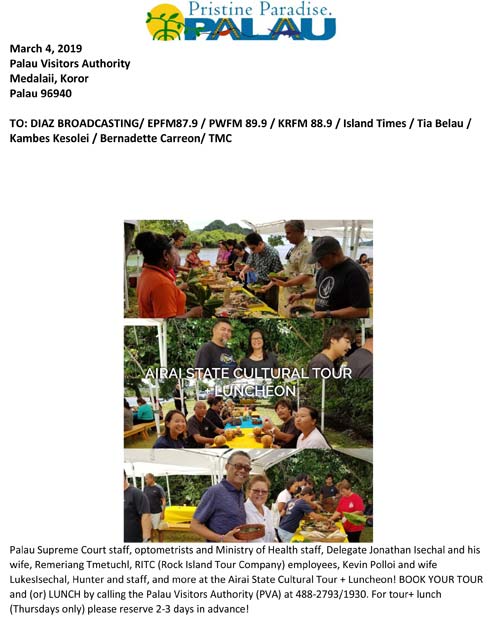 ---
PRESS RELEASE MAR 31 AIRAI STATE CULTURAL TOUR INVITE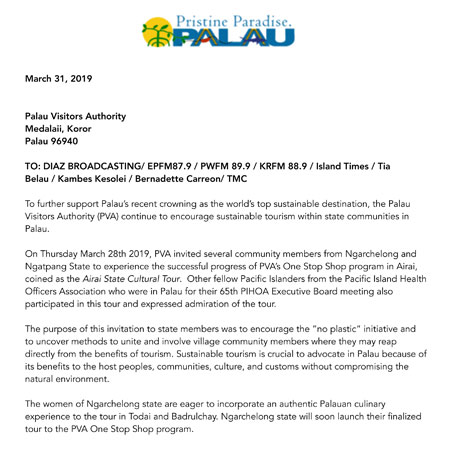 ---
TASTE OF THE MARIANAS INT'L FOOD FESTIVAL RETURNS IN MAY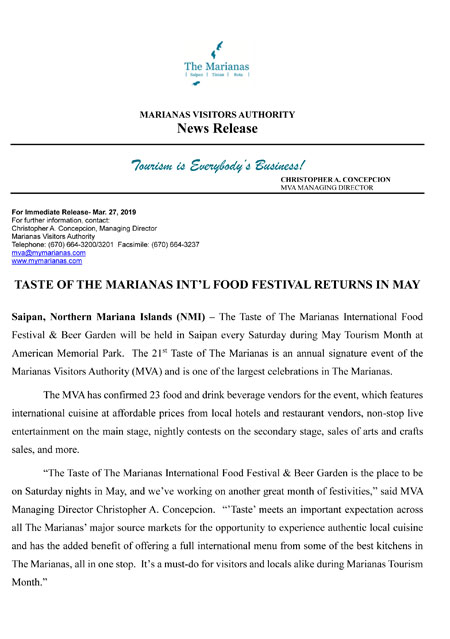 ---
PRESS RELEASE MARCH 24, 2019 - PRESIDENT TSAI'S VISIT AIRAI BAI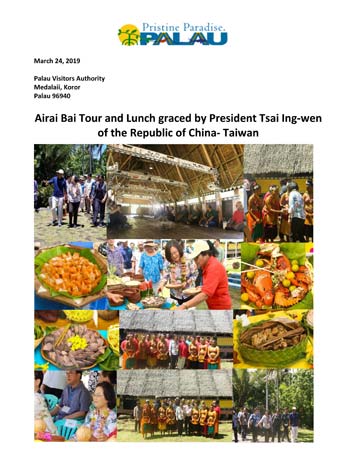 ---
PATA Micronesia Chapter Newsletter - MARCH 2019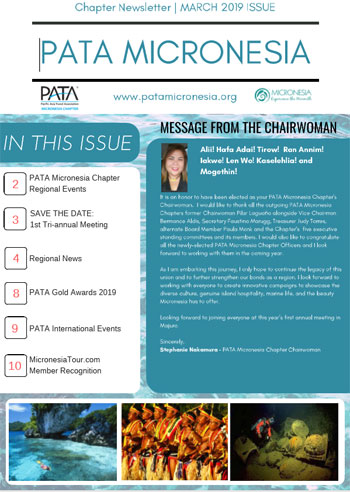 ---
PATA Micronesia Chapter Mtg. in Marshall Is. on Apr. 2-4, 2019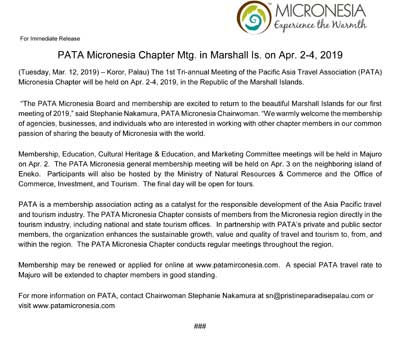 ---
Yap Day - March 1, 2019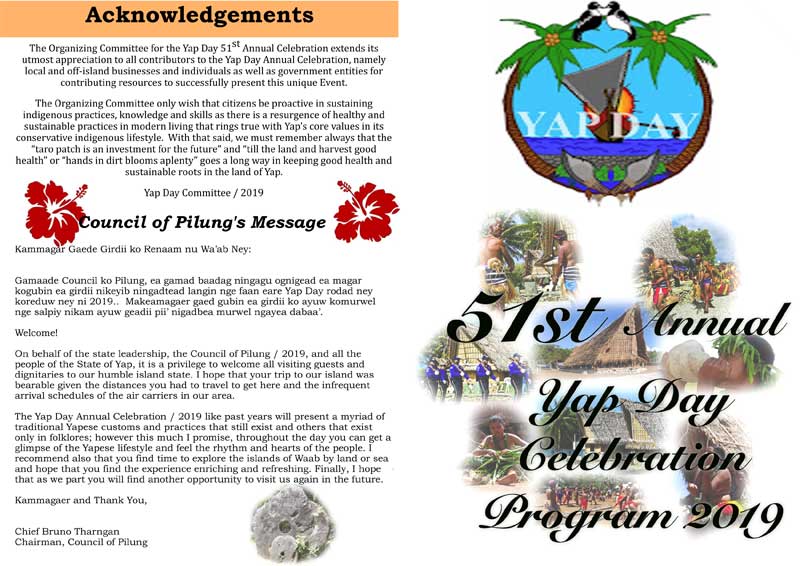 ---
Pre-Yap Day - February 28, 2019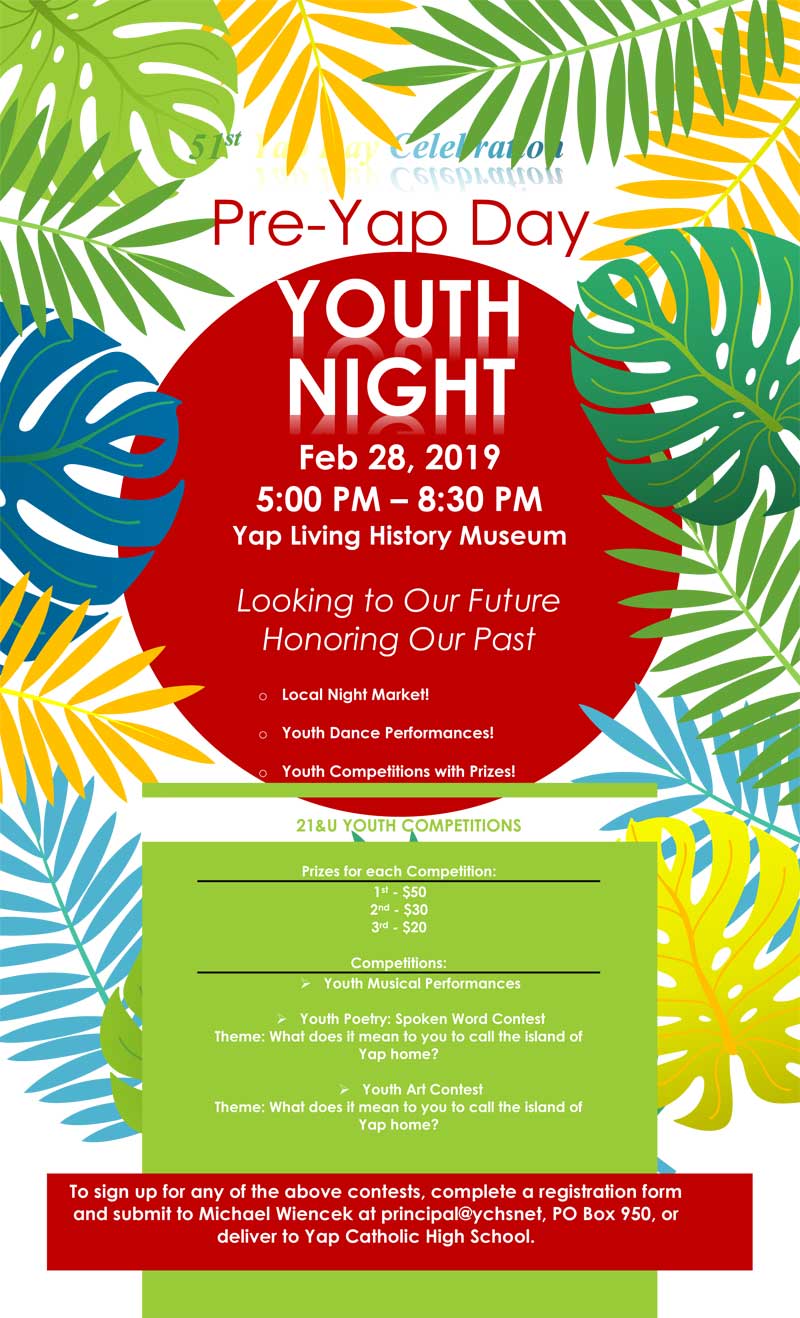 ---
Saipan Marathon 2019 Rates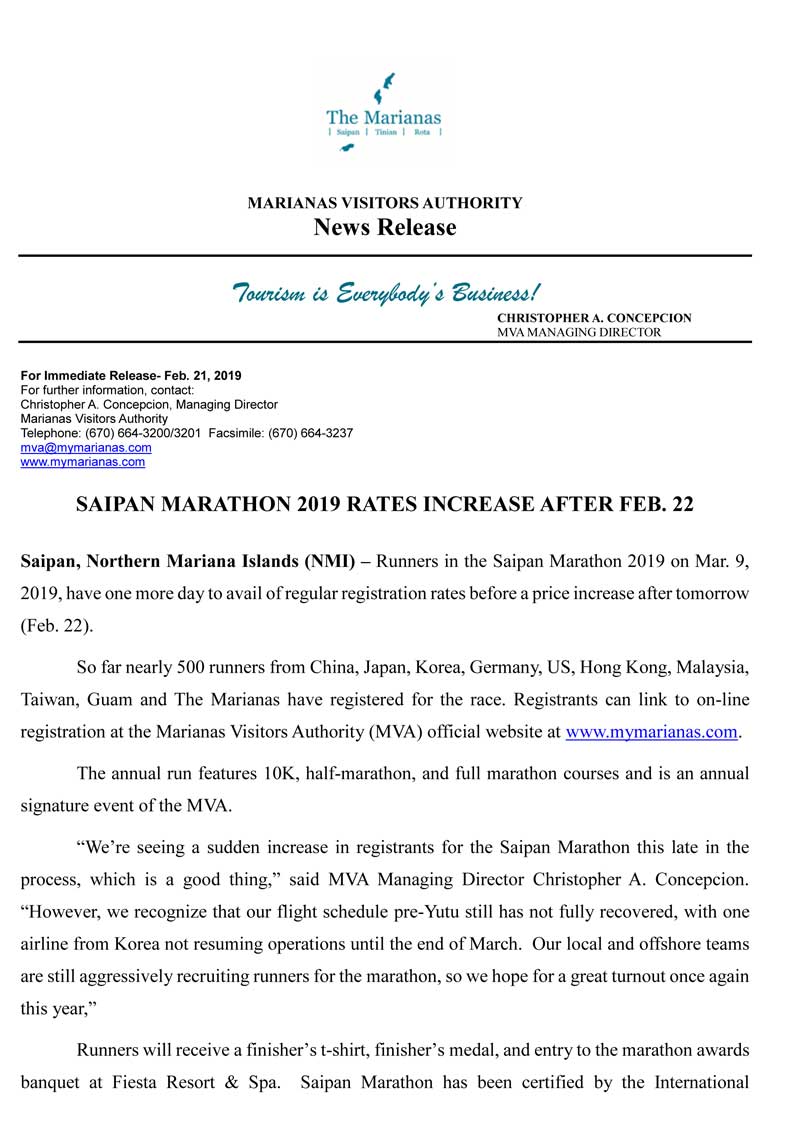 ---
Airai State Cultural Tour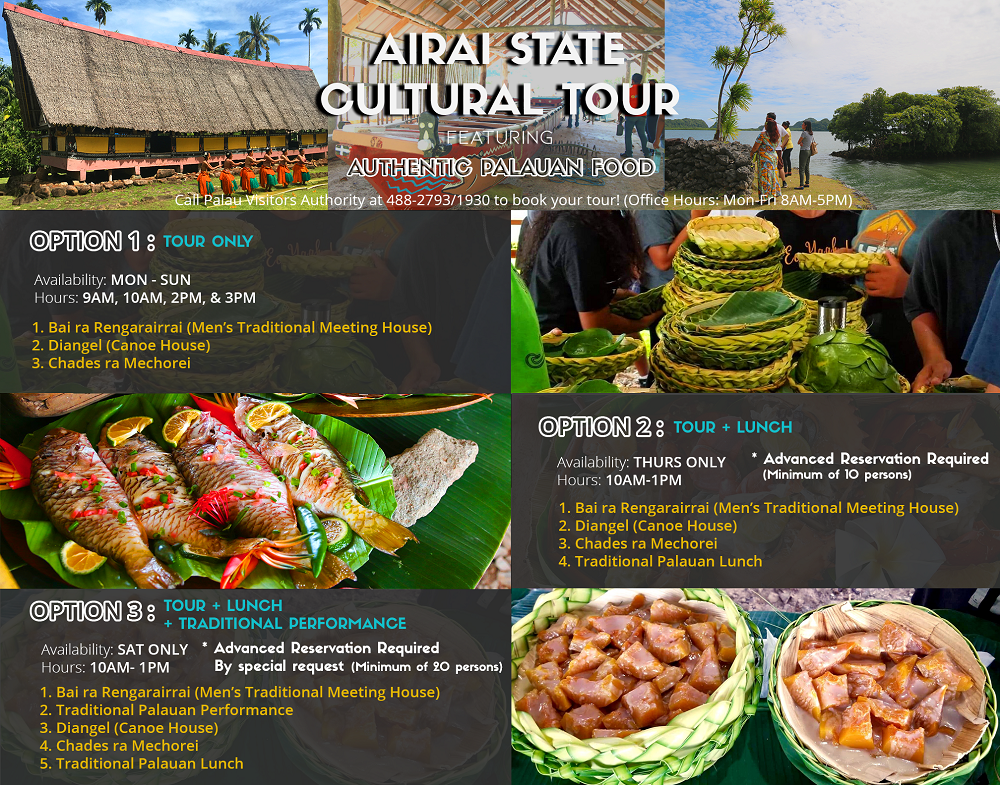 ---
Press Release Feb 6 Sailing Canoe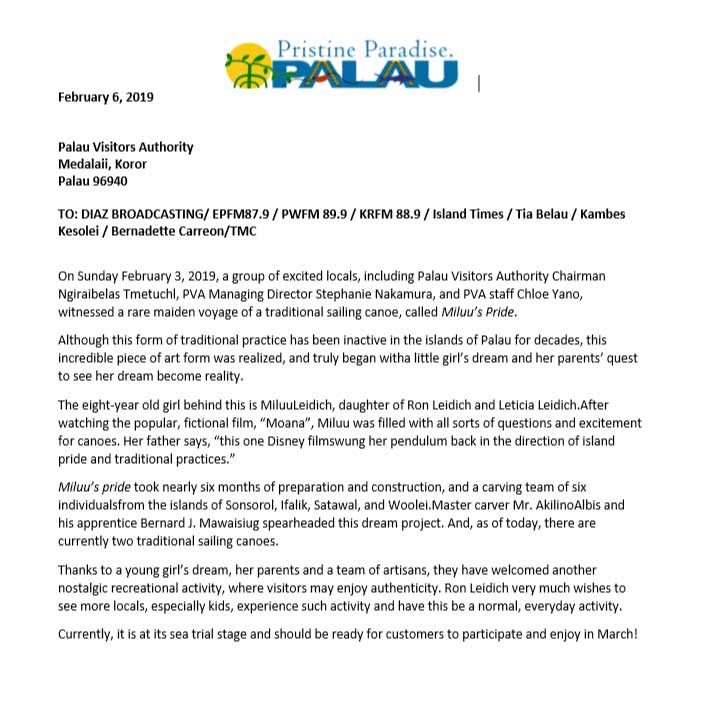 ---
Press Release Feb 3 VP Visit Airai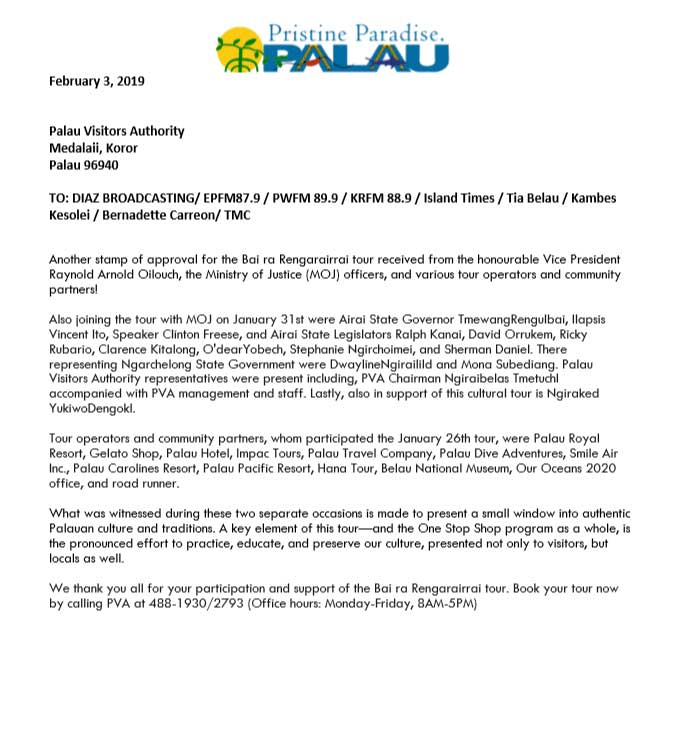 ---
Press Release Feb 3 Thunder Chiefs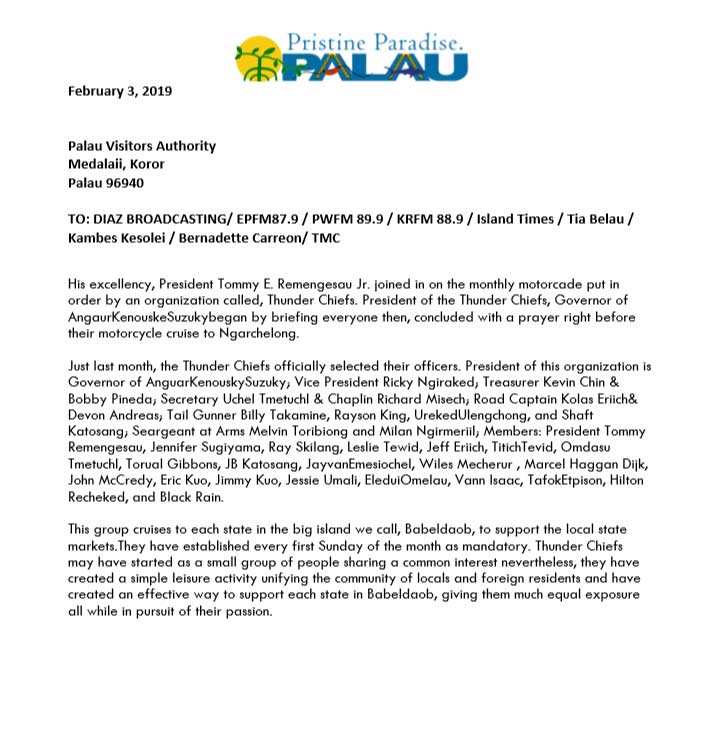 ---
Press Release Jan 24 Airai State Cultural Tour Launch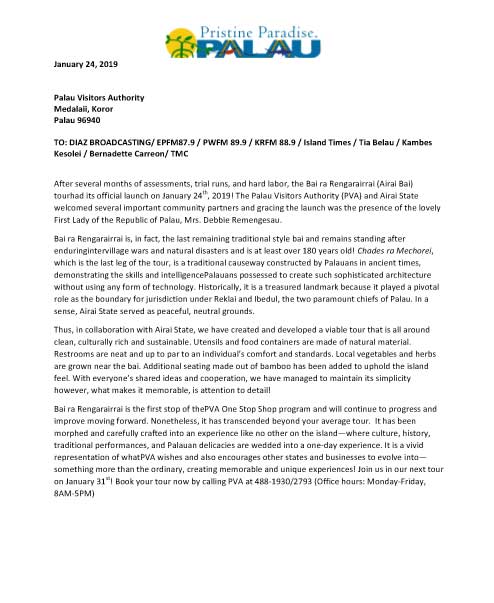 ---
Press Release Jan 16 Ngaraard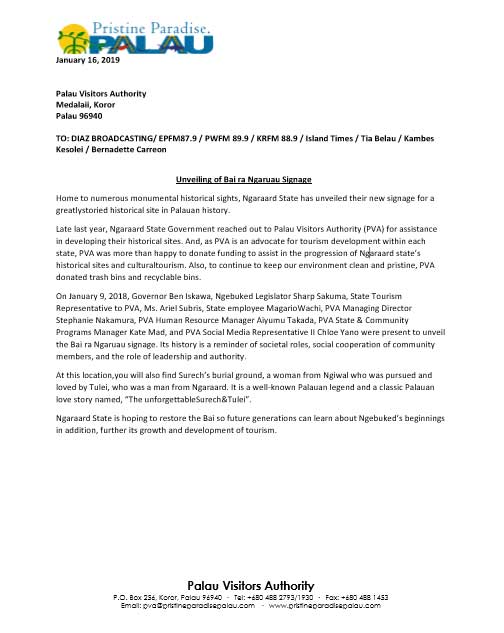 ---
Press Release Jan 2 CPR Training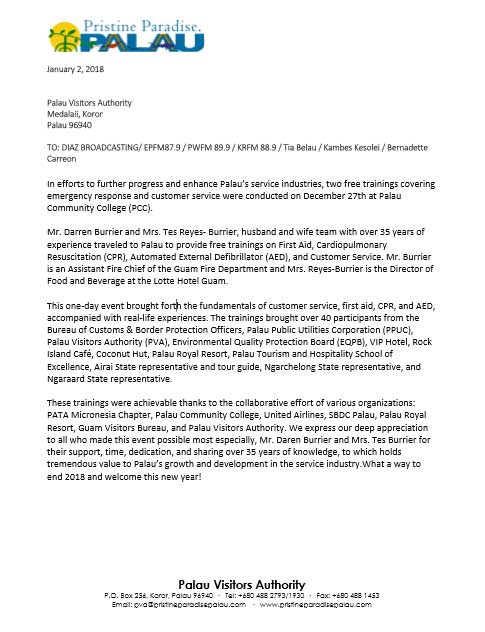 ---
Press Release Dec 26 One Stop Shop Support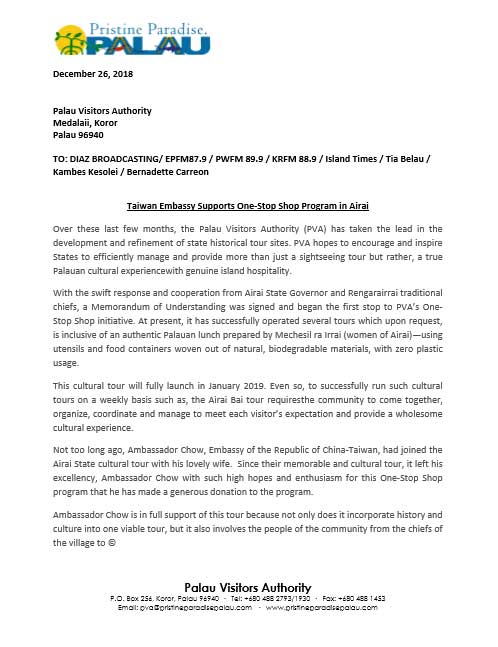 ---
Press Release Dec 19 Guam Group Visit Airai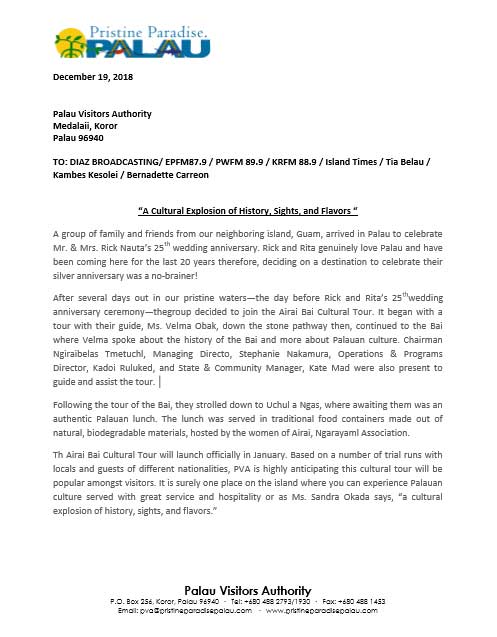 ---
Press Release Dec 19 Christmas Night Market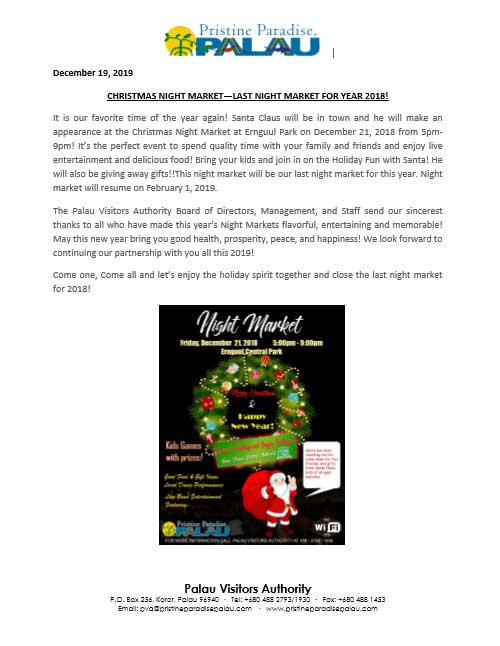 ---
Press Release Dec 10 Indigenous Peoples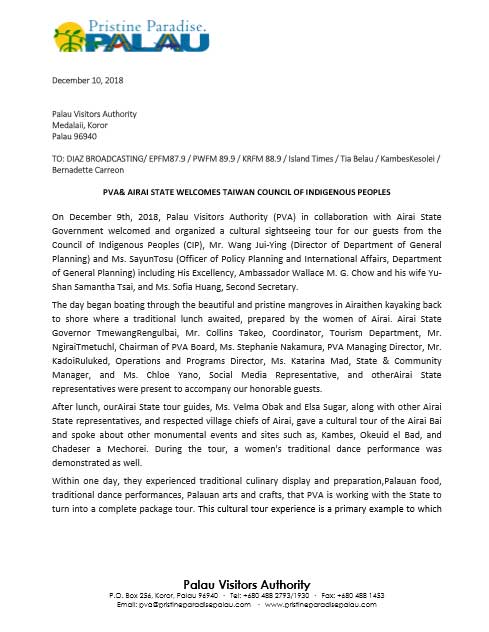 ---
Tinian Hot Pepper Festival Ferry Free for Bike Racers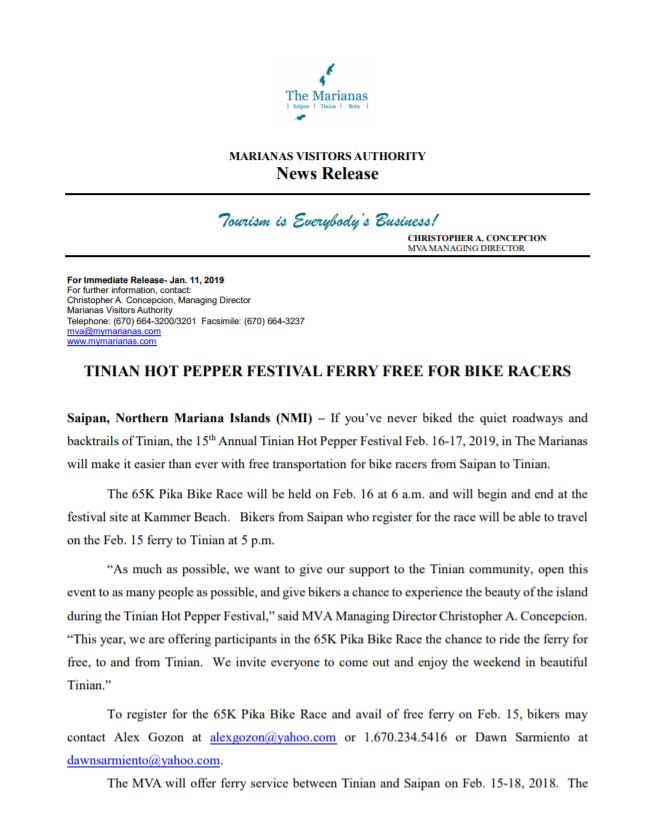 ---
Yap Living History Museum receives donation of historical artifacts for new building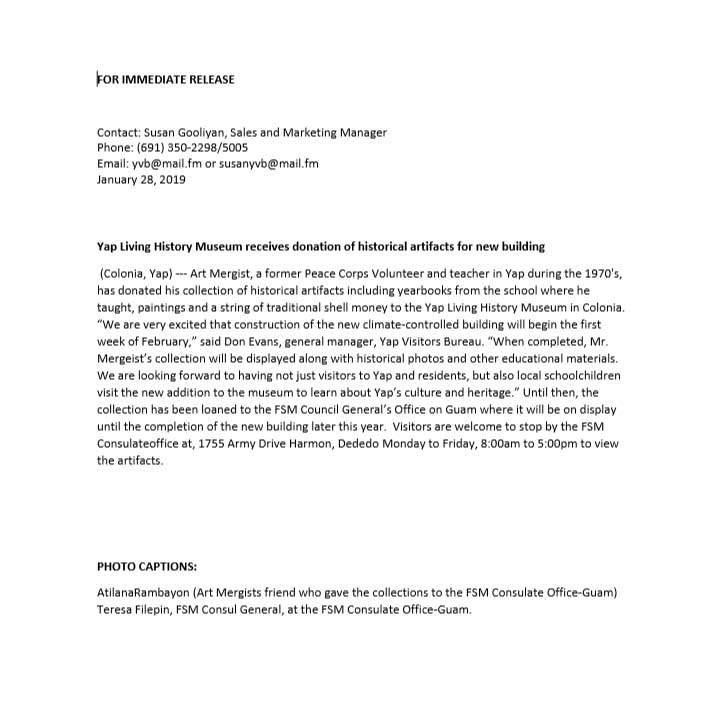 ---
Hong Kong's divers and marine conservationists target of Yap's tourism representatives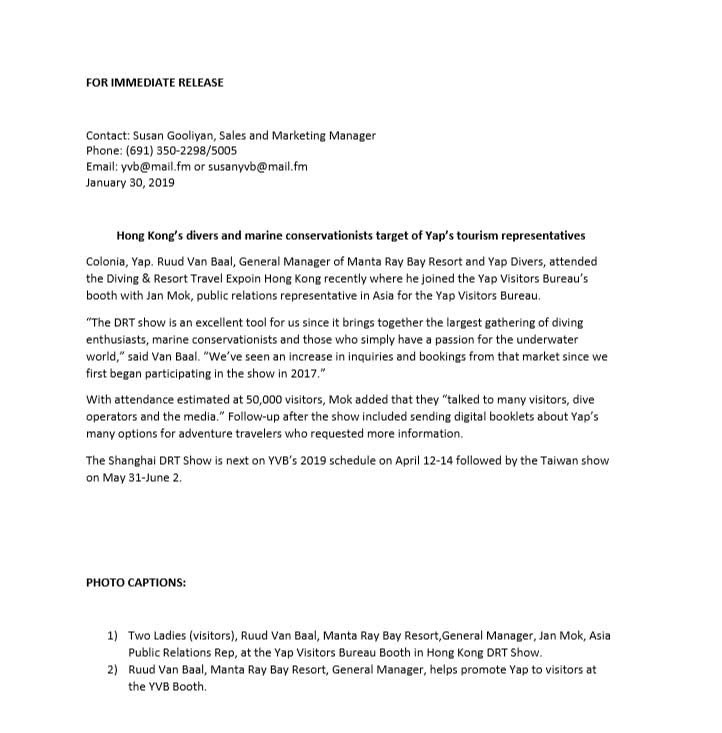 ---
PALAU: AIRAI BAI PRESS RELEASE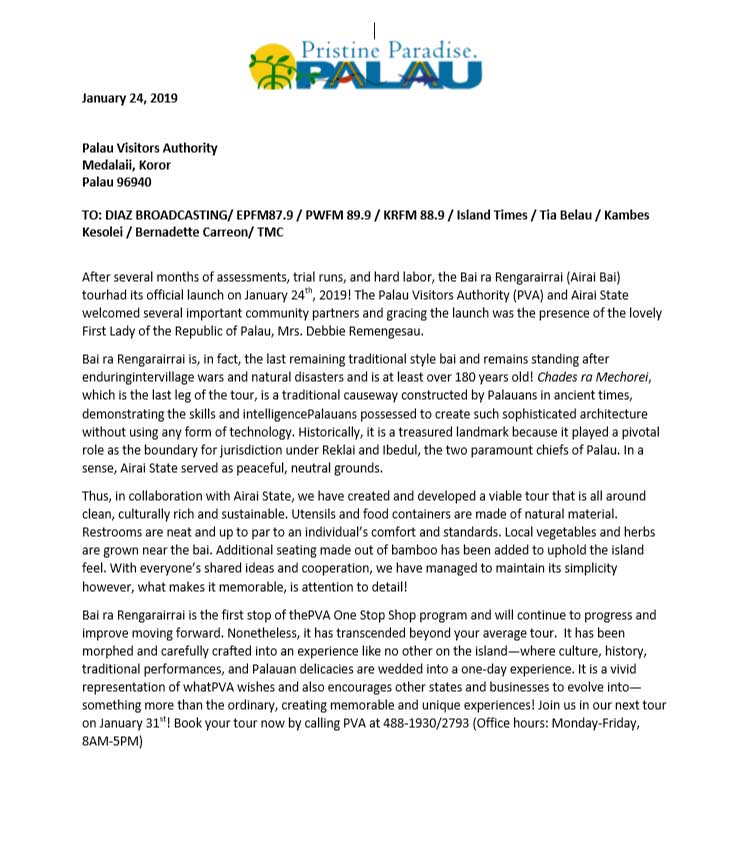 ---
LUNAR NEW YEAR PARTY IN THE MARIANAS ON FEB. 5, 2019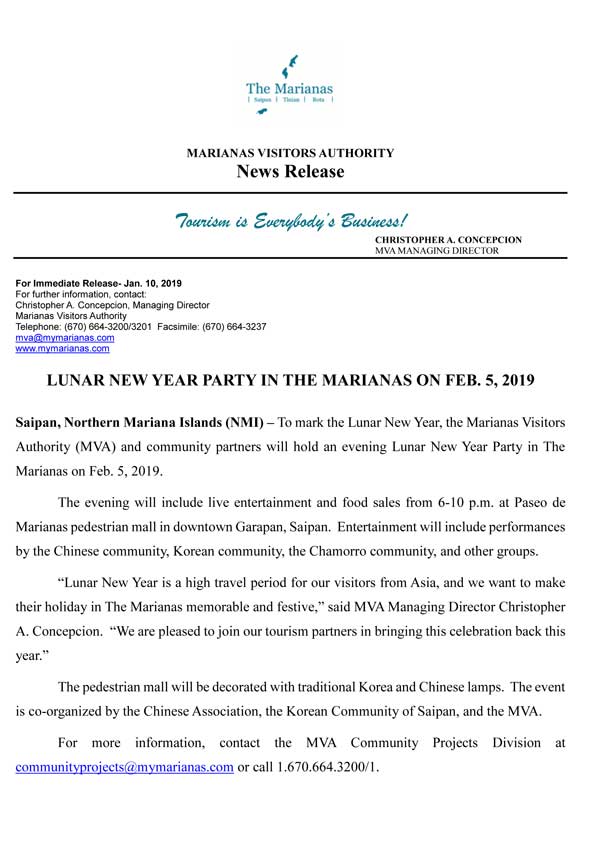 ---
15th TINIAN HOT PEPPER FESTIVAL ON FEB. 16-17, 2019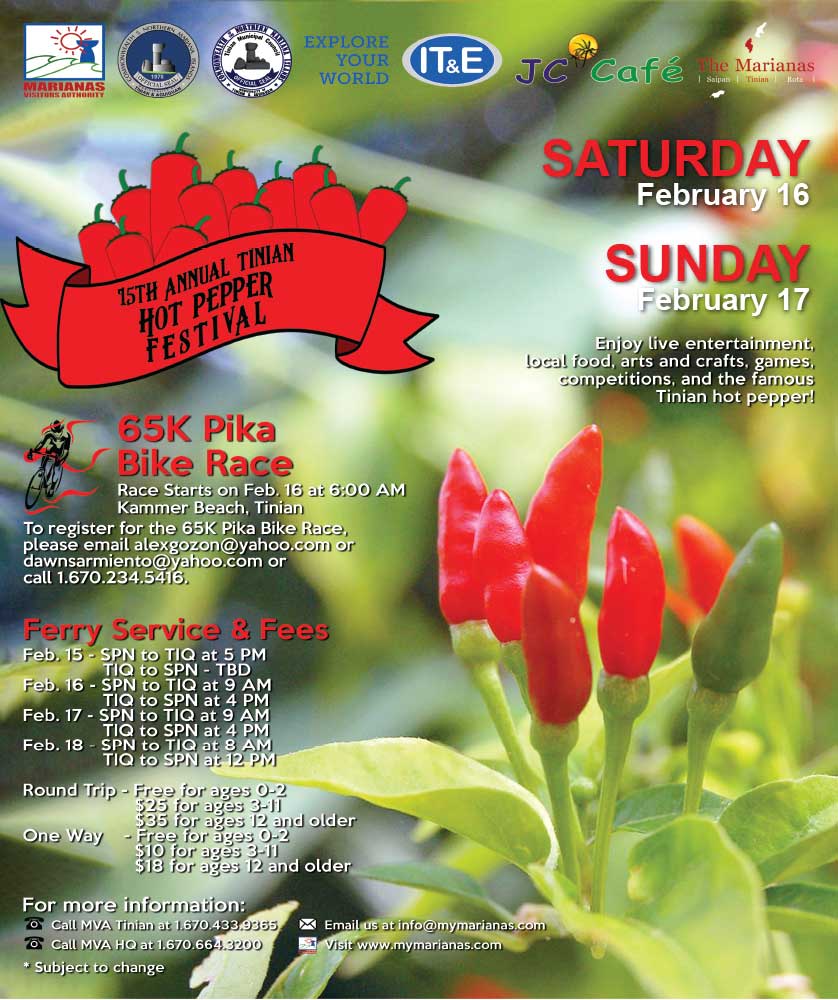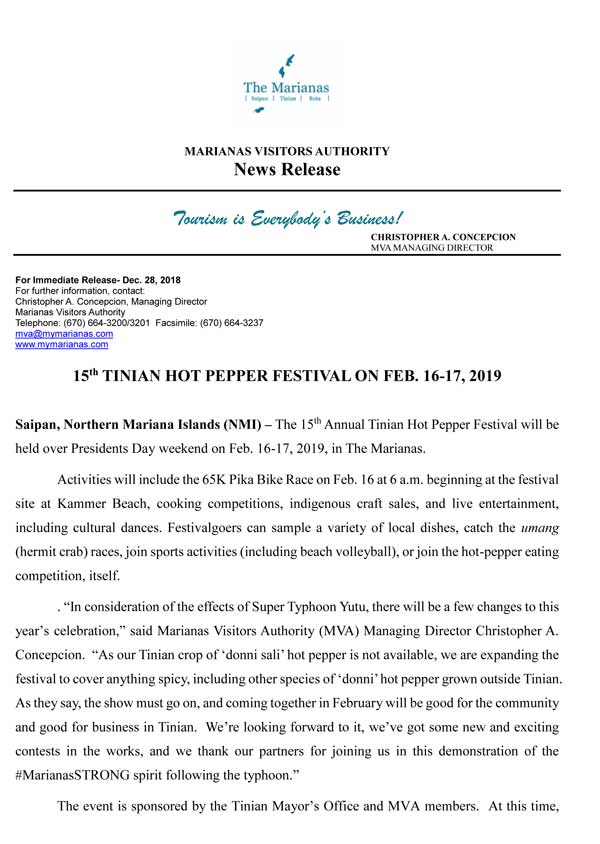 ---
PATA MICRONESIA CHAPTER 3rd TRI-ANNUAL MEETING - GUAM, USA - NOV 28-30, 2018
PATA Micronesia Chapter welcomes their new incoming Board of Directors and Committee Chairpersons and Vice Chairpersons for calendar years 2019 to 2020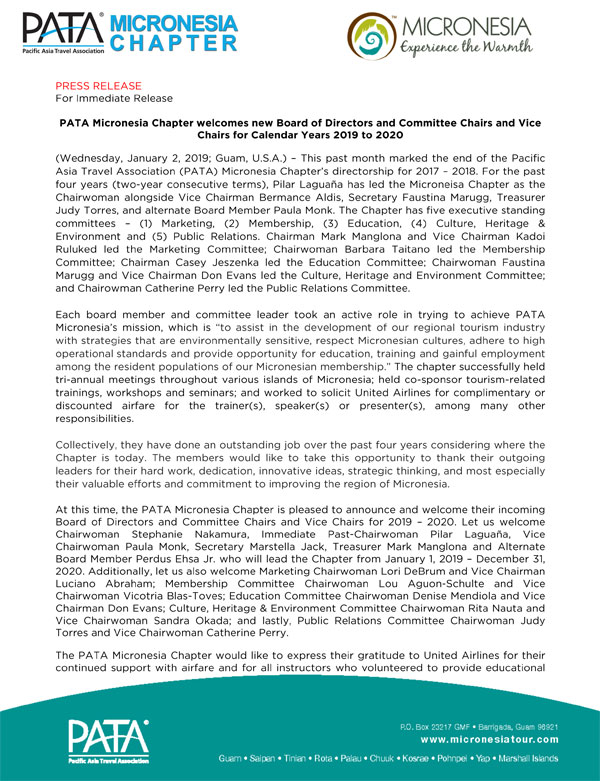 ---
PR Yutu 5K Holiday Fun Run on Dec. 29, 2018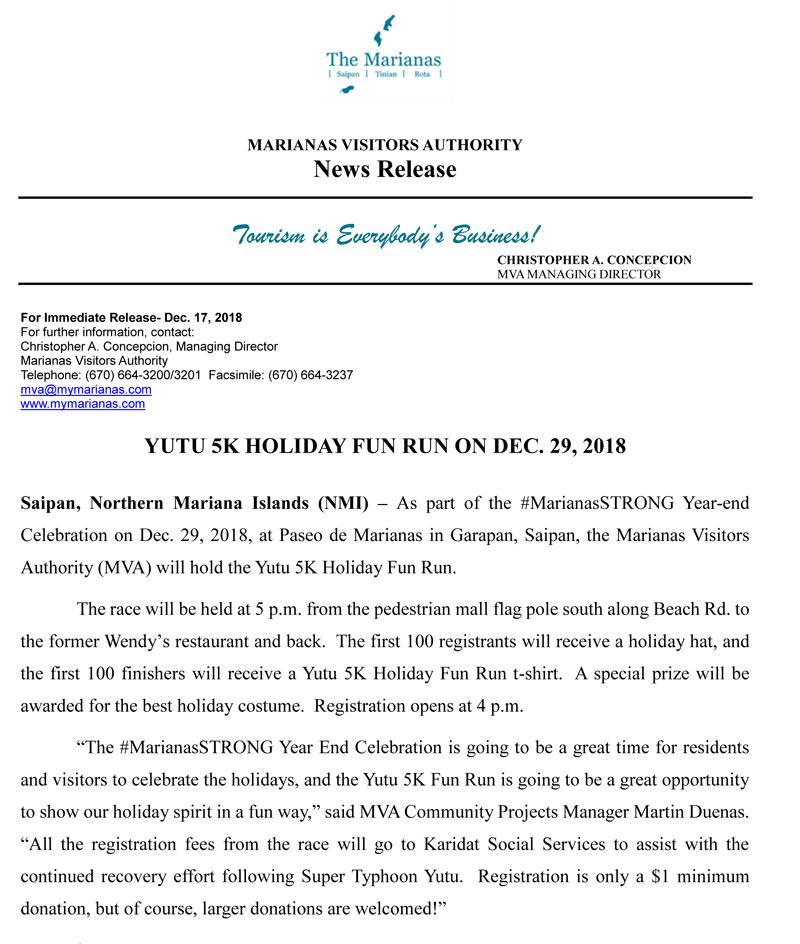 PATA Micronesia Chapter – Delegate Registration Form
2018 PATA Micronesia Chapter 3rd Tri-Annual Meeting Schedule
United Airlines discount flyer
Hotel and Car Rental rates
K-POP Concert flyer
Save the Date flyer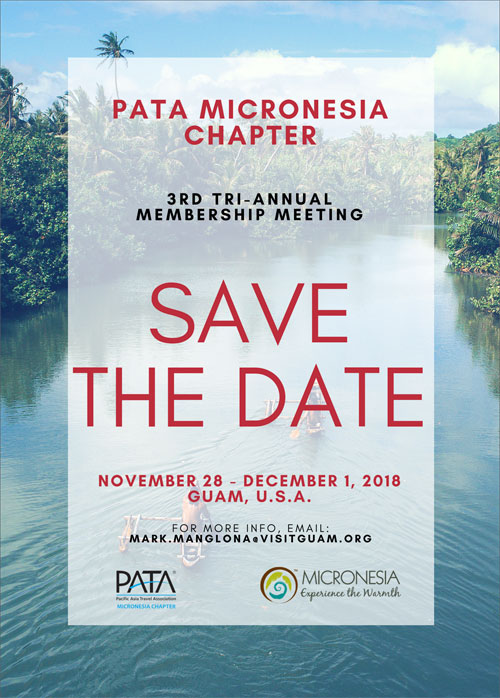 ---
Click here to view the PATA Micronesia Chapter 2nd Tri-Annual Meeting - August 8 - 10, 2018
Click here to view the PATA Chuuk Hotel Listing
Click here to view the PATA Chuuk Room Car Rental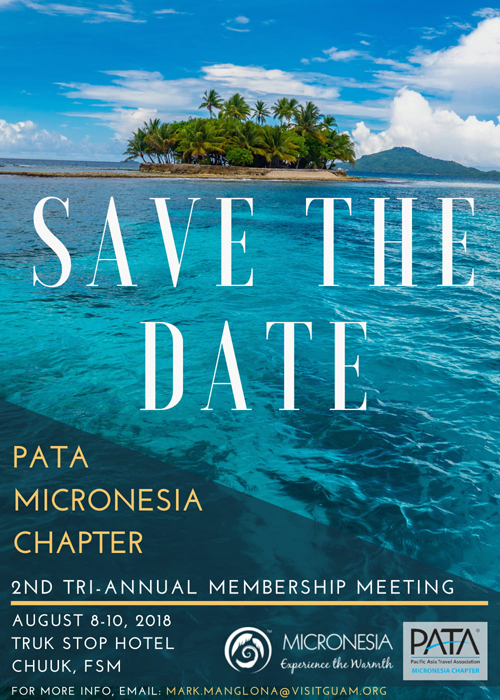 ---
Click here to view the PATA Hospitality Industry Customer Service Training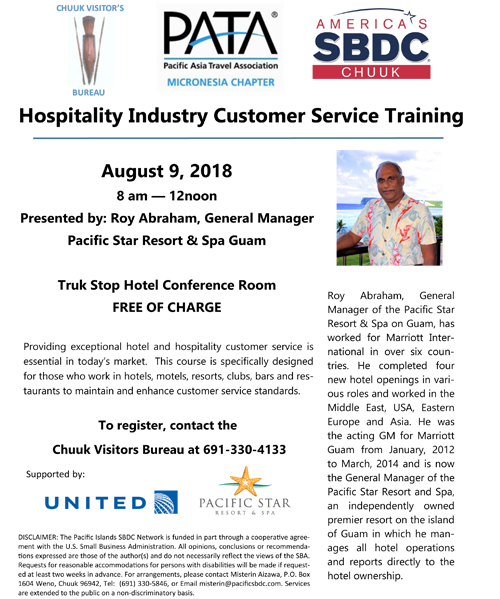 ---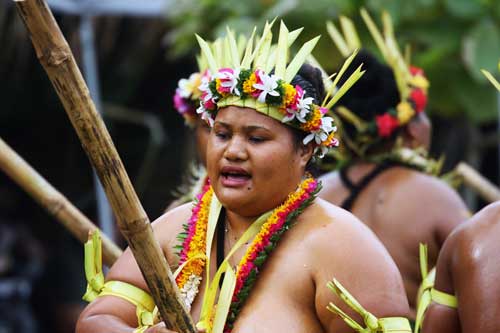 PHOTO: Traditional Dancer_Yap
PHOTO CREDIT: Joyce McClure
FOR IMMEDIATE RELEASE
May 30, 2018
Media contact: Vincent Tafileluw, yvb@mail.fm or (691) 350-2298

Yap to Celebrate Friendship with Japan during Annual Summer Festival
Colonia, Yap.
 During a summit meeting between Japan and the Federated States of Micronesia last fall, Japan's Prime Minister, Shinzo Abe, expressed his gratitude to FSM for consistently and strongly supporting his country in the international arena for many years and noted that 2018 would be the 30th anniversary of diplomatic relations between the two nations. His desire to develop even stronger relations was met favorably by FSM President Peter Christian who replied that he too wished to further strengthen bilateral relations with Japan.
Yap, one of four states of the FSM, is now preparing to celebrate the 30-year anniversary between the two Pacific islands during its annual Yap Summer Festival that will take place at the Living History Museum in Colonia on 
June 15 – 16
.
"We are very excited to be able to bring together the traditional dances, food, art and culture of Yap and Japan to showcase our friendship," said Don Evans, general manager of the Yap Visitors Bureau. "Both cultures are not just unique but use distinct, artistic expressions that represent and honor their ways of life," he added. "It will be an exciting two days to be in Yap!"
FSM Ambassador to Japan John Fritz and FSM Honorary Consul-General to Hokkaido Nobutsugi Kyuribayashi will be among the honored guests. The formal program will include addresses by local and visiting dignitaries; entertainment by students from Yap Catholic High School; and, traditional Yapese and Japanese dance performances. Participating in the event will also be local members of the Japan International Cooperation Agency (JICA) who plan to host a sushi stand, a Japanese treat that is found on every menu in Yap. Other student groups and local organizations are being invited to sell local food, handicrafts and other products in the festival's marketplace.    
For more information about the festival or to rent a booth, stop by the Yap Visitors Bureau during normal business hours, call (691) 350-2298 or go to 
www.visityap.com
.   
---
Click here to view the RFP - Sokehs WWII Historic Site, Design, Construction, and Beautification Project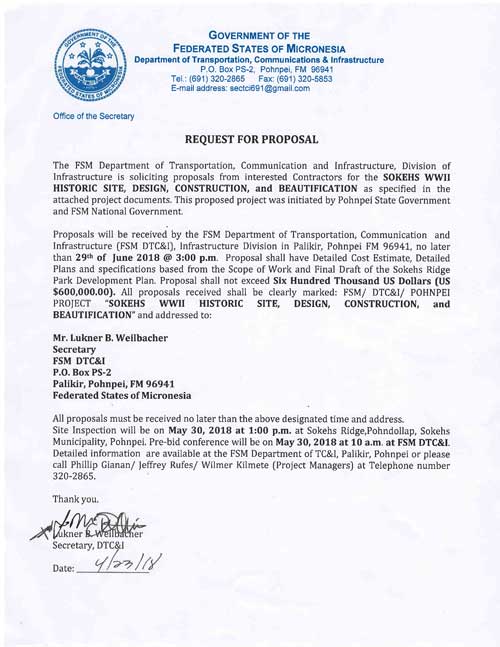 ---
Click here to view the PATA Micronesia Chapter Tri-Annual Meeting - April 24 - 26, 2018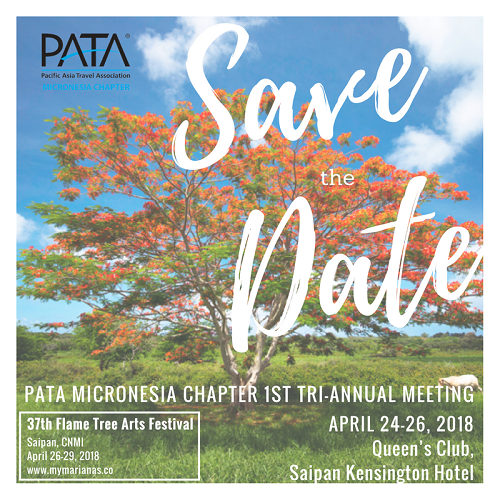 ---
Click here to view the Press Release for PATA Micronesia Chapter and the
University of Guam Pacific Islands Small Business Development Center Network
Announce Memorandum of Understanding for 2018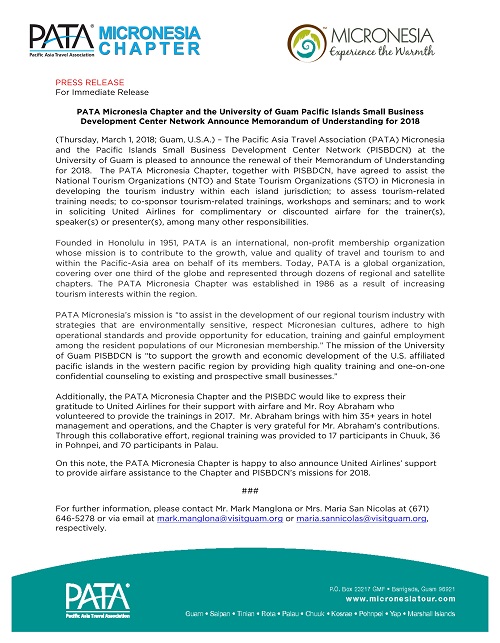 ---
Click here to view the PATA Face of the Future Award - Call for Submissions Nominations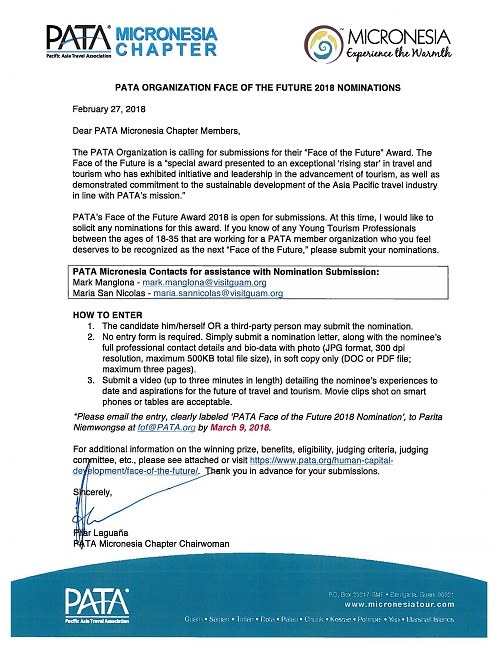 ---
---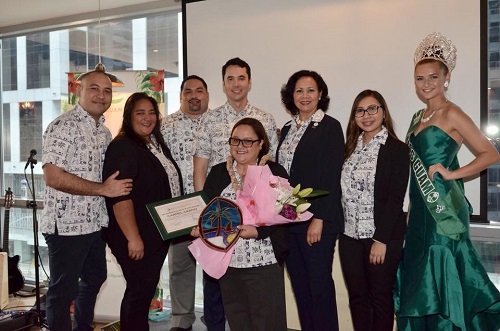 Maria, top left: PTAA 2017 Travel Trade GVB Luncheon-GVB expresses appreciation to Ms. Carmel Carpio, out-going Marketing/Sales Director, GVB Philippines Office
 
---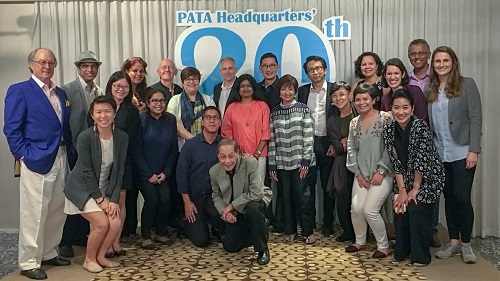 PATA Headquarters: GVB Director of Global Marketing and PATA Micronesia Chapter Chairwoman attended PATA HQ 20th Anniversary with their office in Bangkok. Previously in San Francisco along with PATA Lifetime members, Thailand Chapter representatives and members of the PAT HQ staff and members of the PATA Executive Board.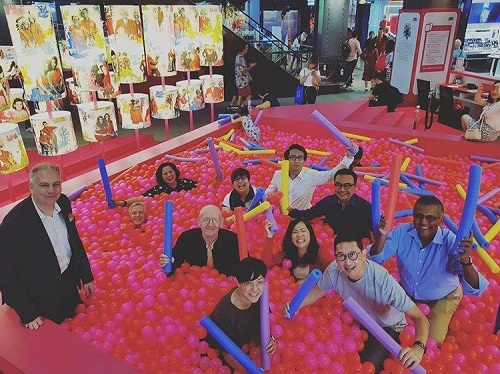 PATA Executive Board takes a lunch break in the kiddy pool!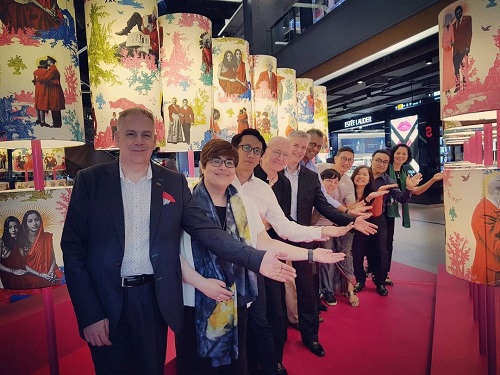 PATA Executive Board welcomes you to Chinese New Year!
---



 
---

PATA MICRONESIA CHAPTER 3RD TRI-ANNUAL MEETING & PATA NEW TOURISM FRONTIER FORUM - PALAU - November 13-18, 2017



This year the New Tourism Frontiers Forum looks to the future by protecting the past as we look at the sustainability of tourism development with a pledge from the host country of Palau to preserve their destination for future generations. The forum will examine two specific topics related to digital marketing and the visitors experience with an afternoon workshop on Community Based Tourism, where participants will learn how to generate business while remaining sustainably conscious of their environment and culture.